YUMA Attends Sun Shading Expo in Charlotte, NC
11/8/2022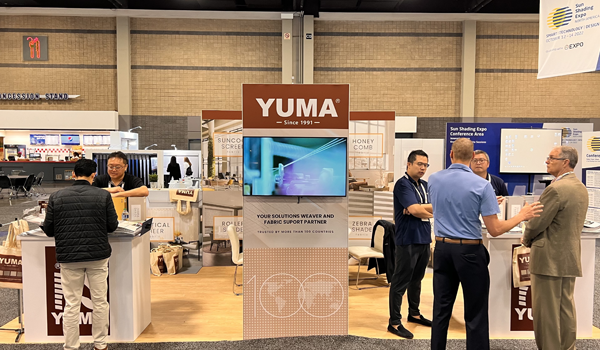 YUMA USA exhibited at the first-ever Sun Shading Expo in Charlotte, NC, from October 12 – October 14. The show was in collocation with IFAI Expo at the Charlotte Convention Center and had a successful turnout of more than 4,200 attendees and 314 exhibiting companies.
"We are thrilled with our decision to exhibit at Sun Shading Expo this year," says Oliver Liang, CEO of YUMA USA. "Though YUMA has been in business since 1991, we are still a relatively new manufacturer on the USA's radar. We formed our USA operations approximately five years ago, and since then, we have lacked opportunities to connect with the industry due to COVID. Such connections are invaluable when building a new branch, promoting your brand and capabilities, and making new connections. Sun Shading Expo gave us all these opportunities and more. We meet with dozens of fabricators, many of them for the first time. And since, have built some new relationships."
At Sun Shading Expo, it was important for YUMA USA, first and foremost, that its audience understand YUMA's manufacturing scale, strengths, and procedures. YUMA had a company video on loop showing its 3.5 million square foot facility, German and Italian fabric equipment, and its manufacturing processes.
Secondly, YUMA wanted to promote its new sample binders and complementary miniature sample book versions. As a company that manufactures its sampling in-house, explaining such collaborative cost advantages to potential partners was also important.
Lastly, YUMA wanted to clarify that although they house and distribute roller and zebra shade fabrics in the USA, the product range available to potential customers can be much wider to include: verticals, drapery sheers, honeycomb, Hannas, Shangri-la, exterior fabrics, and more.
"As the newcomer, many businesses think we are fabricators instead of manufacturers," says Oliver. "We are not fabricators and much more than a manufacturer. We are your Solutions Weaver and Fabric Support Partner."